Leicester City are just a step away from the English Premier League after winning their last encounter against Swansea City.
The team sits atop the league with 76 points garnered from 35 matches. If they defeat Manchester United at Old Trafford on Sunday, they will lift the title after successfully fighting off the title threat from second-placed Tottenham Hotspurs.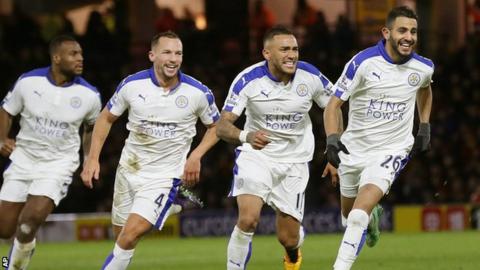 The Spurs were the team who could have piped
The Foxes
to the title but they lost the golden opportunity with the 1-1 draw with West Brom at home on Monday. Even if Leicester City fail to defeat the Red Devils, they would now require just two points from three matches to be sure of finishing top.
Spurs are now seven points adrift with three games left, but head coach of the team, Mauricio Pochettino, still hoping for a slip or just not wanting to give up till the end, said:
"We still need to believe. We are not going to give up."
Claudio Ranieri's Leicester squad started the race this season with the aim of just avoiding relegation or at most finishing in the first half but the team are now set to claim their first top-flight success after leaving Manchester United, Arsenal, Manchester City and defending champions Chelsea in their wake.
Former Foxes defender Matt Elliott told BBC Radio 5 live.
"There's still work to do but, in most people's eyes, it is done and dusted.
"Leicester can win the title at Old Trafford… it sounds incredible.
"I'm covering it on the radio and there are three of us going up in the car. If they win, it won't be me driving home.
"Everyone's pinching themselves because it's an unbelievable achievement," the Match of the Day pundit added.
"These players will be legends at Leicester. They have done it with class and quality and it's good for football. It's a beautiful story."